The Best CBD Oil Available Today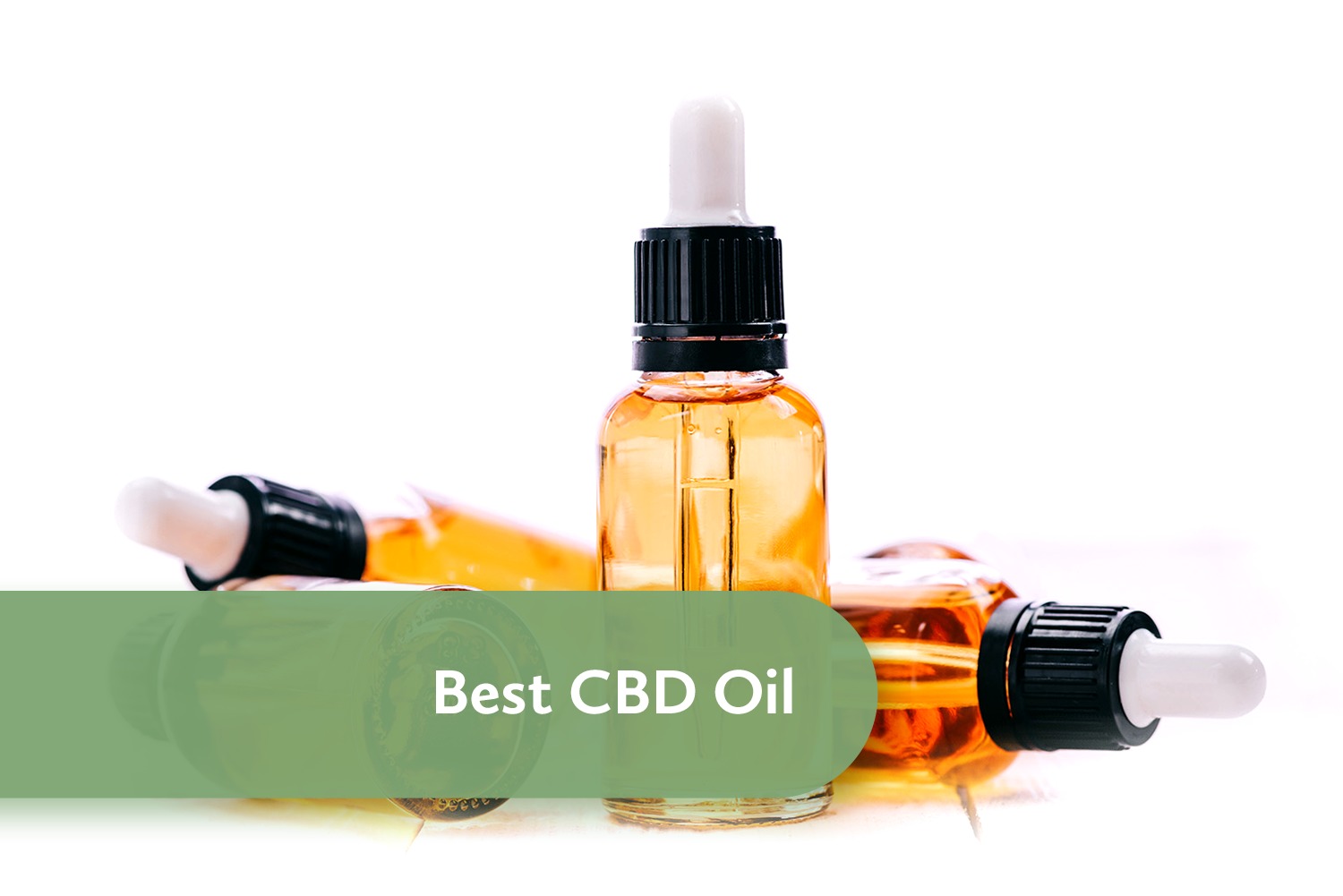 CBD retail stores are popping up in many cities across the United States and this trend is likely to continue as the CBD industry as a whole is expected to experience a 22.2 percent CAGR (compound annual growth rate) over the next several years.
CBD: What It Is and How It Works
CBD stands for cannabidiol and is one of many cannabinoids found within the hemp plant. Other cannabinoids in hemp include:

Cannabinoids such as these interact with the body's endocannabinoid system, which is a system responsible for a number of different functions and processes. A few of the most notable include sleep, mood, appetite, and memory.
Benefits of CBD Oil
While the body makes some cannabinoids on its own, research is now suggesting that a clinical endocannabinoid deficiency may be to blame for a number of chronic pain syndromes. Among these medical conditions are migraines, fibromyalgia, and irritable bowel syndrome. [2] In cases such as these, supplementing with CBD may offer some pain relief.
Research has found several additional positive health benefits associated with taking CBD oil. One of the most well-known is its effect on epilepsy since, in 2018, the U.S. Food and Drug Administration (FDA) approved Epidiolex, the first CBD-containing drug for the treatment of two rare forms of epilepsy: Dravet syndrome and Lennox-Gastaut syndrome. [3]
Because the endocannabinoid system also plays a role in immune system regulation, cannabinoids are thought to provide anti-inflammatory effects. One article published in the journal Future Medicinal Chemistry even calls these hemp extracts "novel anti-inflammatory drugs." [4]
Some studies have also reported that CBD oil may be helpful in the treatment of substance abuse disorder, which is characterized by the abuse of alcohol, nicotine, opioids, and other harmful drugs.
Research published in Frontiers in Psychiatry explains that the reward response typically activated by these substances is influenced by the endocannabinoid system. [5] CBD can help positively influence this response by reducing signaling to cannabinoid receptors, potentially reducing a person's reliance on these substances.
Is CBD Oil Safe to Consume?
Though hemp plants have been around for ages, we're just beginning to learn more about the benefits their extracts provide. This is partially due to the Farm Bill of 2018 which removed industrial hemp from the Controlled Substances Act, effectively making it legal. But because this action is so recent, many consumers question whether CBD oil is safe to consume.
A review published in Cannabis and Cannabinoid Research confirmed that CBD is not only safe for humans, but it also has "a better side effect profile" than many drugs commonly used to treat medical conditions. [6] Additionally, if side effects are experienced, they typically include minor discomforts such as feeling tired, having a change in appetite, and diarrhea.
That said, one area of CBD safety that is currently unclear is whether it is safe to vape. Vaping involves using a device that heats CBD-containing juice, turning it into a vapor that the user can then inhale. Several people have been hospitalized after vaping CBD, [7] so this particular consumption method is not recommended at this time.
Another concern many consumers have that relates back to safety is whether CBD products will make them feel high. This is because the one cannabinoid most associated with the cannabis plant is THC.
THC stands for tetrahydrocannabinol, which is a cannabinoid that creates psychoactive effects. For an industrial hemp product to be legal for sale under federal guidelines, it cannot contain more than 0.3 percent CBD. Because these are trace amounts of THC, CBD products that adhere to these guidelines do not create this type of effect.
Additionally, there are some CBD products that are THC-free. Therefore, if the effects of THC are of concern to you, these are an option to consider. THC-free CBD oil might also be the best option if you're concerned about whether the THC will show up on a drug test, which it could if you take a hemp extract with THC in higher doses or for longer periods of time.
Qualities of an Effective CBD Oil
Like with other health supplements, no two CBD oils are the same. Some are more effective than others, which can be frustrating to you as a consumer by preventing you from experiencing relief. Not to mention, ineffective CBDs are a waste of your hard-earned money.
When talking about CBD oil effectiveness, it's also important to note that sometimes CBD oil and hemp seed oil are used interchangeably. However, these two products are not the same.
Whereas CBD oil is oil created using all parts of the hemp plant—from the stalk to the leaves to the flowers—hemp seed oil comes only from the plant's seeds. As a result, hemp seed oil typically contains a lower concentration of CBD.
So, what does it take to make a high-quality CBD oil? Here are a few factors to consider.

One of the most important factors for CBD effectiveness is that the CBD itself comes from a high-quality strain. In part, this involves using hemp strains with high CBD content. ACDC, Ringo's Gift, and Charlotte's Web are three such strains. [8] Because each one has different flavoring, some users prefer one over the other. For instance, whereas ACDC is slightly sweet, Charlotte's Web is more floral. Charlotte's Web also has less THC, making it more desirable to individuals who are concerned about positive drug test results.

Organically grown hemp oil is also better for you because, like any other plant, hemp can also absorb any substances that exist in the soil it is grown in. That's why it's recommended that you buy fruits and vegetables that are grown organically, limiting your exposure to potentially harmful pesticides and herbicides.

When buying CBD products, you have two choices. You can purchase a CBD isolate or full spectrum CBD. What's the difference?
CBD isolate means that the CBD oil contains only CBD. Full spectrum CBD oil, on the other hand, contains a number of cannabinoids. It also contains other extracts from hemp plants, such as terpenes.
If you're not familiar, terpenes are the oils that give cannabis its distinct flavoring and research has found to be anti-inflammatory, antimicrobial, antifungal, antiviral, antihyperglycemic, and antiparasitic. [9]
The reason having all of these hemp extracts in the CBD product is beneficial is called the entourage effect. The entourage effect states that, while each cannabinoid can be beneficial on its own, when combined, they become even more powerful. They become more synergistic.
Therefore, full spectrum CBD oil is considered to be more effective than a CBD isolate.

An effective CBD is also third-party lab tested. Third-party testing ensures that the label on the CBD products are correct. This increases effectiveness because it means that the CBD oil has the amount of CBD it says, not a lesser amount that provides no real benefit.
Third-party testing also means that you don't have to worry that there may be substances in your CBD oil that can potentially cause you harm.
For instance, PhytoVista Laboratories stresses that lab testing is becoming even more important for determining whether any heavy metals exist in the CBD "as the levels of pollution in our environment go unchecked." [10] Individual CBD company's lab results will provide this type of information.

CBD products come in a variety of forms. There are gummies, CBD tinctures (in which you use a dropper to place the CBD oil under your tongue for approximately one minute before swallowing), vapes, lotions, and more. The main difference between all of these is how well your body is able to use the CBD they contain.
This is called bioavailability and refers to the amount of CBD your body can absorb based on the consumption method. Due to an effect called first-pass metabolism—which is when you lose some of the CBD when ingesting it orally because it is destroyed by digestive juices—CBD oil tinctures taken sublingually under the tongue are the preferred choice.
Best CBD Oils

Based on these factors, what is the best CBD oil on the market today? Currently, the four highest quality CBD brands are Spruce, Sabaidee, NuLeaf, and Lazarus.

Spruce is a high-quality CBD because it offers completely natural, lab grade CBD products that are third-party tested and contain no pesticides. Spruce's CBD is grown in the USA (on farms in Kentucky and North Carolina), which means that it complies with our nation's safety guidelines.
This CBD company uses a moonshine extraction method to collect its CBD extract. This method of extraction provides an effective combination of CBD, THC (all of its products contain less than 0.3 percent), and terpenes than other methods.
CBD oil tinctures sold by Spruce come in various potencies. For instance, there is a 750 mg CBD oil tincture and a 2,400 CBD oil tincture. This enables you to select the potency that provides the most benefit for you based on the amount of CBD it contains.
Spruce also offers other CBD products such as topical CBD cream and CBD for dogs. All of these are full spectrum CBDs, providing a combination of cannabinoids for a greater effect.
If you're new to taking CBD, Spruce recommends beginning with a 750 mg full spectrum oil tincture and using one full dropper twice a day. More experienced users can begin with the 2,400 mg full spectrum CBD.

Sabaidee also produces high quality CBD products. Like with Spruce CBD, Sabaidee's hemp is grown in the United States (Colorado, specifically) and is third-party tested to ensure their products contain the listed amount of CBD and nothing else. This company also gives back by taking a portion of each sale and donating it toward the planting of trees.
Some of the most popular Sabaidee products are its pure CBD tinctures. Each one contains MCT oil, which is short for medium-chain triglyceride oil. MCT oil is derived from coconut oils and helps the body better use the cannabinoids. They also contain peppermint oil to create a more pleasing taste and calming effect.
Other products in Sabaidee's line include CBD balms and creams. Research published in the European Journal of Pain reports that use of these types of topical CBD can help reduce pain and inflammation because of bypassing first-pass metabolism without the risk of upset to the digestive tract. [11]
Optimal dosage of Sabaidee's CBD products varies by individual. If you're just beginning to use this particular brand, it recommends starting with a one-dropper serving and increasing the usage if necessary.

NuLeaf Naturals is another high-quality brand to consider. This company's full spectrum organic oil contains pure CBD, as well as containing trace amounts of other cannabinoids such as CBC, CBG, and CBN. It is third-party tested as well.
NuLeaf Naturals is also one of the first CBD companies to become GMP certified. GMP stands for Good Manufacturing Practice, which the International Society for Pharmaceutical Engineering explains "is a system for ensuring that products are consistently produced and controlled according to quality standards." [12]
NuLeaf utilizes a CO2 extraction method to collect its CBD extracts. This is a process that pulls phytocannabinoids from the hemp plant (which includes cannabinoids, terpenes, and essential waxes) via pressurized carbon dioxide.
You can purchase a variety of high grade, full spectrum CBD oil tinctures from NuLeaf Naturals. They range from containing 240 mg CBD all the way up to 4,850 mg per bottle and each of these is completely organic and contains no additives.
NuLeaf also offers a full spectrum pet CBD oil which contains 240 mg CBD.

A fourth high-quality CBD brand is Lazarus Naturals. Approximately 70 percent of its industrial hemp comes from the company's farm in Central Oregon. The rest is sourced from other local growers who are compliant with the Oregon Department of Agriculture Hemp Research Pilot Program.
Lazarus Naturals tests every batch of hemp for the presence of potentially harmful substances such as pesticides and heavy metals. It also tests for residual solvents and potency, with lab results available on each of the product pages.
All Lazarus CBD products are gluten-free and free from any artificial preservatives. Most are vegan-friendly.
One thing that sets Lazarus apart from some of its competitors is that it offers a wider range of CBD products. In addition to full spectrum, high potency CBD tinctures with 750-6,000 mg CBD, it also sells balms, capsules, and CBD coconut oil.
Lazarus Naturals indicates that, while many of its customers appreciate its unflavored CBD, some people do find the earthy flavor of CBD unappealing. In this case, it may be helpful to mix your unflavored CBD products with a food that can help mask the taste. Options to consider include yogurt or ice cream.
If You Are a First Time CBD Oil User
If you are using CBD oil for the first time, it is recommended that you start slow. In other words, begin with a lower dosage CBD and see how you feel.
If you don't notice any of the positive effects of CBD within a few days to a week, increase the amount of CBD you consume (not exceeding the product recommendations) or try a higher dosage product.